Edible Body Paint – Should You Buy It or Just DIY It?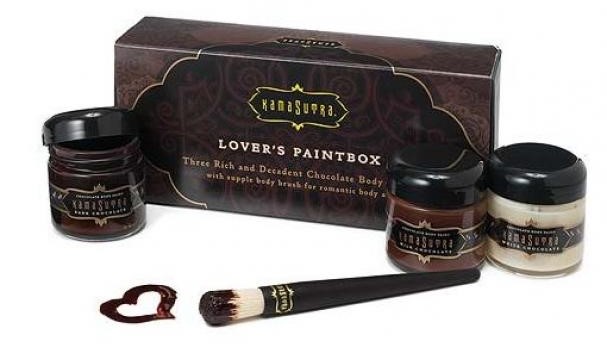 Slathering edible body paint on your partner is always somewhere in some top ten list of "things to spice up your sex life" or "sexy things to do on Valentine's Day", even I've recommended the idea.
However…
Are the body paints out there really something you want to consume – after all, it's not just a couple droplets you'll be putting on your partner.
WHAT TO EXPECT
---
The main thing to remember this that you're not going to be painting any Picasso or Michelangelo inspired creations on your partner's skin – the products just aren't made for that. What you're aiming for is the sensual sensation of brushing the paint over the body and the rush as it's being licked off.
GOING THE COMMERCIAL ROUTE
---
Here are some of the products I found…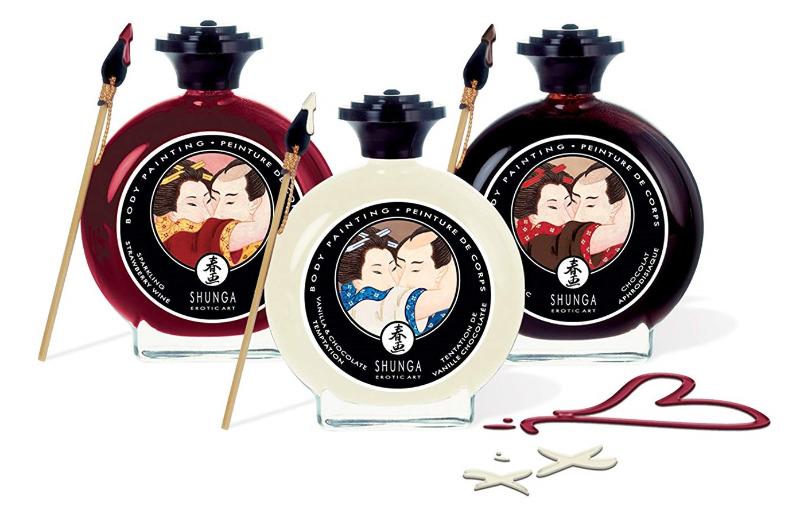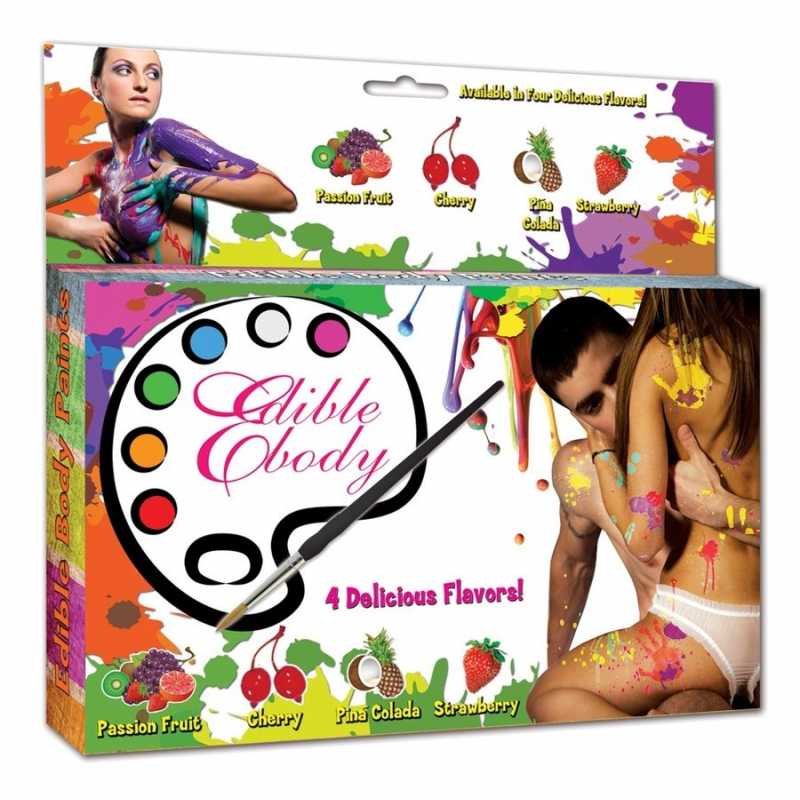 The problem with most of these is that it's hard to find out what ingredients are in them. After reading several reviews, I'm also seeing a pattern of the brushes being "not that great" and the actual paint either being way too runny or (in the case of the pens) way too sticky. However, what I'm also seeing is that many people still like them.
WHO WOULD LIKE THESE?
People who want fun packaging as a gift (serious or gag)
People who can't cook to save their lives
People who are looking for an easy way to spice things up
People who might like sploshing
What's Sploshing? Learn more here...
What is Sploshing? Learn About This Wet and Messy Food Fetish
WHO WOULDN'T LIKE THESE?
People who don't like additives, colorants, etc.
People who don't like artificial flavors
GOING THE DIY ROUTE
---
The other way would be to make your own – and it doesn't have to be traditional chocolate. All you have to do is go to your local baking aisle and select colors, flavors, and candy discs (the kind you melt in a double boiler).
WHO WOULD LIKE THESE?
People who like to know/control their ingredients
People who like to go higher quality
People who want a specific consistency/feeling
People who like something beyond chocolate flavor
People who like gifting DIY things
WHO WOULDN'T LIKE THESE?
People who don't have much time
People with limited kitchen skills
HOMEMADE OR CHEAP IDEAS
---
Take vanilla pudding (the box kind) divide into smaller cups and add colors and flavors.
Melt chocolate in the microwave with a little milk or butter
Melt the milk chocolate discs used for baking and add flavors and colors
Store-bought chocolate, caramel, or strawberry syrup
BODY PAINT RECIPE
---
8 oz. semi-sweet chocolate squares chopped
1/4 cup heavy cream
2 to 3 drops Orange Vitality or Tangerine Vitality essential oil
OR
8 oz. white chocolate squares chopped
1/4 cup heavy cream
2 to 3 drops Peppermint Vitality essential oil
OR
8 oz. dark chocolate squares chopped
1/4 cup heavy cream
2 to 3 drops Lavender Vitality essential oil
INSTRUCTIONS
In a small saucepan, add the chopped chocolate and the heavy cream and simmer over low heat, stirring often, until melts together.
Stir in the drops of essential oil, to taste, and then turn off the heat. Let it come back to room temperature.
Use with paintbrush or fingers.
WARNING – Remember, no matter what kind of paint you use, NEVER put it in the vagina – it can cause infections.
. . . . . . . . . . . . . . . . . .
In the end, I'm all about the DIY (or as natural as possible stuff), but I can see the appeal of the easy, commercial stuff. In the end, use honey if you have nothing else :P
Any body paint suggestions you want to add? Any sexy or unsexy experiences? Share in the comments!
Want more interesting articles? Check out these...
Have a yummy day!
Robyn
TagsEdible Body Paint